Description
Acewell Digital Sports Road Bike Speedometer with Analogue Tacho to 15000rpm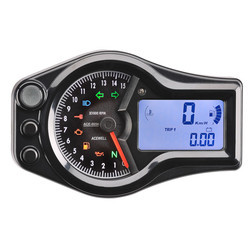 Description

The ACE-6654 Digital Speedo from Acewell is a fully optioned, modern unit with many of the features demanded by today's high performance motorcycles. The key features of the ACE-6654 are the large, backlit LCD screen, providing clear, easy to read data including speed, engine water temp, fuel level and gear indicator. The screen also shows 1 of up to 19 different data points, from a trip meter (2 trip counters available), to odometer, to battery voltage and many more. Another great feature is the large, easy to read analogue, 15,000 RPM tachometer. This, combined with the programable shift light make nailing those high RPM gear changes a piece of cake. The Acewell ACE-6654 also includes a lap timing feature which is controlled by the bar mountable thumb switch.
Features
- 100% Waterproof
- Backlit LCD screen, easy to read
- ADR compliant pilot lights
- Hour meter and Odometer readings stored in internal menory
- Includes bracket, RPM sensing wire, reed speed sensor, 2x temp sensors (engine coolant and ambient temp), manual lap timing switch, fitting kits and wiring harness.
- Gear indicator
- ADR approved for road use for both motorcycle and passenger vehicles
- Lap timing

Functions:
- Analogue Tachometer 0-15,000RPM
- Digital Tachometer display on LCD
- Gear Indicator
- Ambient Temperature Meter
- RPM shift warning light
- Coolant Temperature gauge 50 - 160C
- Temperature warning light
- Battery Volt Meter 8.0 - 25.0V
- Speedometer 2.4-399km/h
- Max Speed 2.4-399km/h
- Average speed 2.4-399km/h
- Trip Meter (1 & 2) 0-999km
- Odometer 0-999,999km
- Clock 12 or 24 hour option
- Hour Meter 0-9999 hours
- Total Hours 0-9999 hours
- Bar Fuel Meter 0-7 bars
- Lap Timing
Specifications
- Power Input: DC 12V
- Tachometer input: CDI or Ignition Coil Signal
- Speed Sensor: Reed sensor with magnetic bolts

Kit Includes:
- Speedometer head unit
- Mounting bracket (optional triple clamp bracket available P/No.ACE-IHO)
- Loom extention
- Speed senor kit with two magnetic bolts
- 2x temp sensors (coolant and ambient)
- Manual lap timing switch
- Wiring diagram

Dimensions:
130 x 82 x 35mm

Easy Installation
The Acewell speed pickup uses a reed switch and magnet. Both are included in the kit. For bikes, simply replace a bolt in your front disc rotor with the included magnetic bolt, and align the reed switch with the magnet. Then program the tyre circumference into the Acewell. That will calculate speed, trip, and odometer readings. For cars, simply ensure the magnet passes the sensor for every turn of the tyre. This can be done using the wheels, drive shaft or other rotating parts.
Specifications
Reviews
Be The First To Review This Product!
Help other Triumph Performance Parts users shop smarter by writing reviews for products you have purchased.
---
More From This Category