Description
Acewell 2853 digital speedo with LCD, brand new in the box.

Awesome features and functions in a compact, attractive unit. Finished in a great looking black anodized aluminium housing.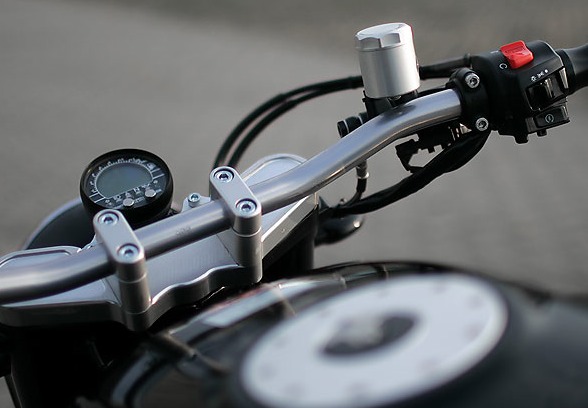 This Speedo is a perfect replacement for motorcycle brand speedo's that could cost you a small fortune!! The unit is designed to be fully universal. It can can be fitted to virtually any bike, quad, kit car or racing lawn mower!! It provides a legal speedo, odometer and trip meter readout (km/h or MPH) together with a clock feature.

LED indications give you left indicator, right indicator, full beam and neutral.

The panel display gives you the tacho scale at the top, 1st row display offers you the speedometer, and various mode functions are in the 2nd row display.

It also has a reset button and mode button for easy navigation.




It also features a fuel gauge. The fuel sender must be 100ohm. If you do not have a fuel sender, you can purchase an Acewell ACE-TS, or you can choose not to connect the fuel sender.

Features:
Includes analog and digital tacho, speedo (300km/h max), trip meter, odometer, clock, average speedo, maximum speedo, riding timer and cumulative riding timer.
LCD has two rows of digital and one analog bar-graphic tacho displays with blue LED backlight.
Odometer and cumulative riding timer measurements are stored in memory even when the power is off.
Adjustable wheel circumference suitable for all kinds of wheels: setting range of 1-3999 mm setting.
MPH and KPH switchable.
Waterproof Design.

Specifications:
Power Input: 12VDC
Dimensions: 64mm round x 40mm deep
Speed Sensor: No Contact Magnetic Sensor and reed switch
Tacho Input: CDI or Ignition-coil signal
Wheel Circumference setting: 1mm-3999mm (1mm increment)
Operation Temperature: -10C to +80C inner housing
Storage Temperature: -25C to +85C inner housing


Easy Installation
The kit includes a stainless steel mounting bracket, full wiring loom with connectors to match the Acewell computer, reed switch and magnet for speed pickup, wiring diagram, and english instructions.

Click here to download a Wiring Diagram
Click here to download a User Manual

Acewell 2853CP Digital Speedometer with Polished Chrome Housing. Ideal for Cruisers and Customs

The ACE-2853CP digital speedometer from S3 Performance is ADR approved and road legal for passenger vehicles and motorcycles in Australia and New Zealand.

Features:
- Polished Chrome Metal Housing
- 100% Waterproof
- Backlit LCD screen, easy to read
- Digital tachometer up to 19,900rpm
- Built-in RPM shift warning
- Fuel gauge
- Hour meter and Odometer readings stored in internal menory
- Includes bracket, RPM sensing wire, reed speed sensor, fitting kits and wiring harness.
- ADR approved for road use for both motorcycle and passenger vehicles

Functions:
- Digital Tachometer 100-19,900rpm
- Bar graphic Tachometer 500-12,000rpm
- Speedometer 2.4-399km/h
- Max Speed 2.4-399km/h
- Average speed 2.4-399km/h
- Trip Meter (1 & 2) 0-999km
- Odometer 0-999,999km
- Clock 12 or 24 hour option
- Hour Meter 1 & 2 0-99hrs
- Total Hours 0-9999hours
- Bar Fuel Meter 0-7 bars

Specifications
- Power Input: DC 12V
- Tachometer input: CDI or Ignition Coil Signal
- Speed Sensor: Reed sensor with magnetic bolts

Kit Includes:
- Speedometer head unit
- Integrated chrome mounting bracket
- Loom extention
- Speed senor kit with two magnetic bolts
- Wiring diagram

Dimensions: 72mm dia x 58mm deep

Easy Installation
The Acewell speed pickup uses a reed switch and magnet. Both are included in the kit. For bikes, simple replace a bolt in your front disc rotor with the included magnetic bolt, and align the reed switch with the magnet. Then program the tyre circumference into the Acewell. That will calculate speed, trip, and odometer readings. For cars, simply ensure the magnet passes the sensor for every turn of the tyre. This can be done using the wheels, drive shaft or other rotating parts
.
Specifications
Reviews
Be The First To Review This Product!
Help other Triumph Performance Parts users shop smarter by writing reviews for products you have purchased.
---
Others Also Bought
---
More From This Category