Description
PENRITE 10 TENTHS RACING 10W-40 (100% PAO ESTER)
BASE OIL:
100% PAO ESTER Full Synthetic
USED IN THE FOLLOWING FUEL TYPES:
Petrol / E10
Racing
LPG (Gas) / Dual Fuel
Diesel
VISCOSITY:
Racing 10 is a premium, 100% , PAO & Ester full synthetic SAE 10W-40, SHEAR FREE modern engine oil. It contains an anti-wear package of *FULL ZINC +(exceeding 2200+ ppm levels) for ultimate engine wear protection. It exceeds the requirements of API SN/CF, ACEA A3/B3 as well as many other manufacturers' specifications.
CAN BE USED WHERE THE FOLLOWING SAE VISCOSITIES ARE RECOMMENDED:
ADDITIONAL PRODUCT INFORMATION:
FACTORY RACING
APPLICATION:
Racing 10 is designed for use in modern 4, 6 & 8+ cylinder, multi cam, multi-valve including VVT, naturally aspirated, supercharged & turbocharged engines. It can be used in high performance, modern engines for both competition and normal on road use in a wide range of vehicles.
Racing 10 is a SHEAR FREE formulation that eliminates viscosity loss during extreme engine operating conditions ensuring the ultimate in protection for your engine.
Racing 10 is suitable for vehicles that specify the use of SAE 10W-30 or SAE 10W-40 viscosity engine oils in the owners handbook. It can also be used where the manufacturer requests API SN or where previous API specifications SM (2004-10), SL (2001-04), SJ are recommended and where ACEA A3/B3 is required. It is suitable for use in LPG and light duty diesel engines where API CF, ACEA A3/B3 is required or pre 2008 where ACEA A3/B4 is recommended. It is NOT suitable for use in diesels fitted with a DPF (Diesel Particulate Filter).
Racing 10 has been proven in race and competition conditions in engines requiring a high performance full synthetic engine oil. It is the product of choice for many competitors running competition vehicles in circuit & drag racing, rallying, drifting, hill climb, targa, time trials and regularity.
VEHICLES AND FUEL TYPES
Racing 10 is suitable for use in competition applications and on road in passenger cars, motorcycles and light commercial vehicles and it can be used with Petrol, LPG, E10, E85 (Racing & Competition only), diesel (without DPF), avgas, nitro, methanol & other conventional fuels.
Racing 10 is also suitable for use in four stroke motorcycles with wet clutches.
NOTE: when changing oil, Penrite recommend using Penrite Engine Flush, a fast acting, solvent free, engine cleaning formulation that removes engine deposits, sludge and contaminants with the oil service drain. It contains added zinc for engine wear protection and its fast acting formulation works in 10 minutes.
PRODUCT BENEFITS:
PREMIUM 100% PAO and ESTER full synthetic base oils for ultimate performance
*FULL ZINC+ additive pack for wear protection
SHEAR FREE formulation eliminates viscosity loss
LATEST oil technology for less wear, sludge & piston deposits
COMPETITION PROVEN and trusted for performance engines
Suitable for mixed fuel types
Longer engine life by reducing engine deposits
Premium Synthetic base oils for wear protection
European-standard additive package
Longer oil life in high performance vehicles
Protects engine at start up
High temperature protection
KEY SPECIFICATIONS:
API SN/CF
ACEA A3/B3
Porsche GL
BMW LL-98
MB 229.1/229.3
VW 502.00/505.00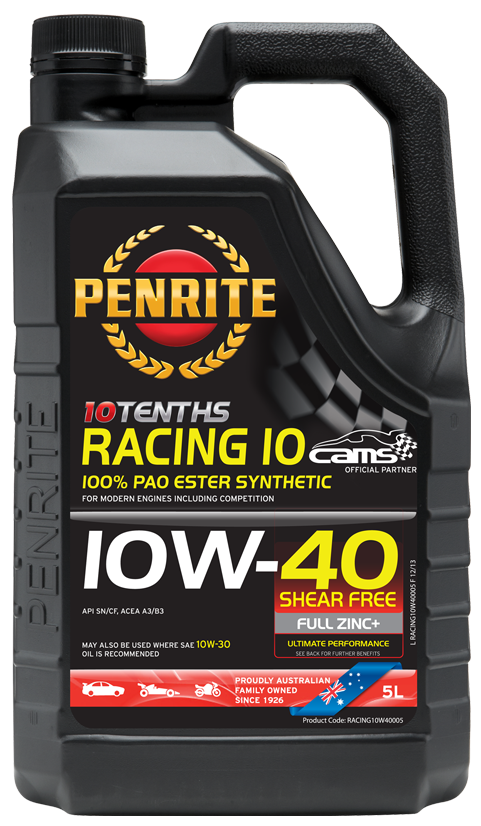 ---
Specifications
| | |
| --- | --- |
| SKU | PEN-101010W405l |
| Brand | Penrite |
Reviews
Be The First To Review This Product!
Help other Triumph Performance Parts users shop smarter by writing reviews for products you have purchased.
---
More From This Category